You are here
Family events
Have a family outing at Château de Saché and experience one of the events over half-term!
SCULPTURE WORKSHOPS - FROM BALZAC TO RODIN
Wednesday October 27th, November 3rd, December 22nd and December 29th 2021 at 11am*/**
Children try their hand at sculpture to gain a better understanding of work by sculptors, such as David d'Angers and Auguste Rodin, who portrayed Honoré de Balzac in the 19th century.
in-French
Duration: 1hr.
Price: 9 € per child and per adult / 7 € from the 2nd child.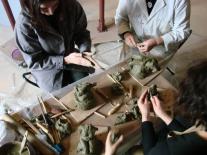 DEMONSTRATIONS- INTRODUCTION TO THE PRINTING PRESS
Thursday October 28th, November 4th, December 23rd and December 30th 2021.
Learn how the museum's antique printing press works and dive into the world of the 19th century printing studio and Honoré de Balzac's everyday life at work.
In-French
Duration: 10-15 minutes, 11am-12pm.
Price: museum admission fee.
*Subject to availability. 
One adult per family must be in attendance.
Booking possible outside these dates and times for groups of at least 5 people.
**Suitable for children aged over 7. 
***Suitable for children aged over 5.
Rédaction d'un commentaire